I received an advanced review copy in exchange for an honest review, however it does not influence my review. Quotes are taken from an unedited advanced review copy and is subject to change in the final copy. Thanks, Little Brown & Co./Jimmy Patterson Books for the review copy!
Young Adult Fantasy, Asian-coded, LGBTQ+
November 6, 2018 from Jimmy Patterson Books/Little Brown
Each year, eight beautiful girls are chosen as Paper Girls to serve the king. It's the highest honor they could hope for...and the most demeaning. This year, there's a ninth. And instead of paper, she's made of fire.




In this richly developed fantasy, Lei is a member of the Paper caste, the lowest and most persecuted class of people in Ikhara. She lives in a remote village with her father, where the decade-old trauma of watching her mother snatched by royal guards for an unknown fate still haunts her. Now, the guards are back and this time it's Lei they're after -- the girl with the golden eyes whose rumored beauty has piqued the king's interest.




Over weeks of training in the opulent but oppressive palace, Lei and eight other girls learns the skills and charm that befit a king's consort. There, she does the unthinkable -- she falls in love. Her forbidden romance becomes enmeshed with an explosive plot that threatens her world's entire way of life. Lei, still the wide-eyed country girl at heart, must decide how far she's willing to go for justice and revenge.
Castes
➤ Paper

➣ Fully human, unadorned with any animal-demon features and incapable of demon abilities
➣ The lowest and most oppressed class
➤ Steele
➣ Humans endowed with partial animal-demon qualities, both in physicality and abilities
➤ Moon
➣ Fully demon, with whole animal-demon features such as horns, wings or fur on a humanoid form and complete demon capabilities
Rep
☀ Asians in fantasy
☀ #ownvoices
☀ f/f romance
☀ Asian-coded fantasy
☀ Queer MC + LI
Content/Trigger Warnings
➤
Violence
➤
Graphic animal death
➤
Sexual Assault
➤
Abuse
➤
Rape
Favorite Quotes
"The fear might be strong.
But my hatred is stronger."

--Natasha Ngan, Girls of Paper and Fire
"It doesn't matter how beautiful the cage is. It's still a prison."
--Natasha Ngan,
Girls of Paper and Fire
"When the world denies your choices, you make your own."
--Natasha Ngan,
Girls of Paper and Fire
"I don't want an easy life. I want a meaningful one."
--Natasha Ngan,
Girls of Paper and Fire
"We might be Paper Girls, easily torn and written upon. The very title we're given suggests that we are blank, waiting to be filled. But what the Demon King and his court do not understand is that paper is flammable. And there is a fire catching among us."
--Natasha Ngan,
Girls of Paper and Fire
"Her kisses heal the parts of me that the king broke. They tell me: You are strong, Lei. You are beautiful. You are mine. And, always, most important: You are yours."
--Natasha Ngan,
Girls of Paper and Fire
**Quotes are taken from an uncorrected advanced review copy and is subject to change in the final copy**
Meet Natasha Ngan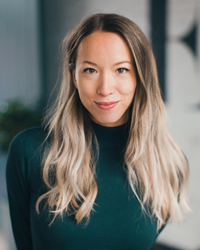 Natasha Ngan is a writer and yoga teacher. She grew up between Malaysia, where the Chinese side of her family is from, and the UK. This multicultural upbringing continues to influence her writing, and she is passionate about bringing diverse stories to teens. Natasha studied Geography at the University of Cambridge before working as a social media consultant and fashion blogger.
She recently moved to Paris, where she likes to imagine she drifts stylishly from brasserie to brasserie, notepad in one hand, wineglass in the other. In reality, she spends most of her time getting lost on the metro and confusing locals with her French. She is represented by Taylor Haggerty at Root Literary. Her YA novels THE ELITES and THE MEMORY KEEPERS are out now from Hot Key Books, and GIRLS OF PAPER AND FIRE will be published in October 2018 by Jimmy Patterson/Little Brown (US) and Hodder & Stoughton (UK). Head on over to the Books page for more info!
Natasha is also co-owner of fashion, travel and lifestyle blog Girl in the Lens.
Purchase Girls of Paper and Fire