Even The Moon Has Scars is Steph Campbell's love letter to her daughters, and this story diary is my love letter to the book.
October 28, 2014



Two strangers.
Two broken hearts.
One night to set each other free.




Almost dying from an undiagnosed heart condition means every second of your life is a precious gift to be guarded.




Lena Pettitt was born a miracle.
And her parents never let her forget it.
Even if that daily reminder kept her from experiencing the one thing they were trying to protect most--her life.




Gabriel Martinez's heart has been ripped out.
His pride has been stomped on.
Oh, and he now has an arrest record that's caused an even bigger rift between him and his DA mother. All for a love that wasn't really true.




Now he's exiled to his grandmother's, working on his late grandpa's old Corvair, when a shivering girl knocks on the garage door. Lena, left alone for the first time ever, has locked herself out of her house. Gabe knows he could help this girl get back inside her house--but that may mean missing the next train to Boston to pick up the part he's spent eight weeks tracking down. She can wait for him at his grandmother's or…




A few hours, an aluminum valve cover, and some strong coffee later, neither Gabe nor Lena can feign disappointment when they race to the station and arrive just as the last train home from Boston is pulling out.




As jaded as he is, Gabe can't deny the fact that he's excited to spend the night exploring a city he knows nearly every corner of, with a girl who sees magic in the simplest things.




Lena has been waiting for her tiny world to crack open her entire life. Now that it's finally happened, she finds the only thing she can focus on is the unexpected tour guide who opens her eyes to possibilities she never imagined.




All they have is this one night, together, under the bright moon in a city full of hidden beauty.
It's one night that will change how they see the world and the paths their hearts will take forever.



Setting + Places
Gloucester, Cape Ann, Massachusetts
Boston, Massachusetts
Harvard
Boston Opera House
There's this scene where Gabe takes Lena to a storage under the Boston Opera House (hidden gems like that piques my interest), but that the old underground concert hall is only semi-true. Steph informed me that the storage is not under the opera house in real life, but is actually under a piano store! That piano store is called
M. Steinert & Sons
on Boylston Street.
You can read more about it here!
Here are some pictures of the old underground concert hall (it looks pretty cool!)...
Go on a virtual tour the place while you're here...

[vimeo 18230808 w=400 h=231]
Pretty cool, right? I like hidden secrets in/underneath cities, and this is definitely one I'd like to explore. Any Boston residents/visitors ever know about this place?
Favorite Quotes



"I feel like for a long time, my life has been in a million pieces. I've been scrambling trying to figure out what to do, how to make things right . . . I finally get that I'm in charge of figuring out how I want those pieces to fit back together . . . And you're one of those pieces," he says. "So don't go too far, okay?"

--Steph Campbell, Even The Moon Has Scars (pg. 231-232 )






They aren't the kind of wounds that need a team of surgeons. . . .They're the tiniest hairline fractures on our hearts, but they still have the power to change us.

--Steph Campbell, Even The Moon Has Scars (pg. 233)



CHD and TAPVR
CHD (Congenital Heart Defect)


A birth defect of the heart in which a child is born with an abnormally structured heart and/or large vessels. [Source]


Such hearts may have holes between chamber partitions or narrow/leaky valves or narrow vessels, incomplete or missing parts, or put together the wrong way. [Source]


There are many types of congenital heart defects.


Some CHDs can be detected pre-birth or afterward. Depending on the type of murmur, they would need testing: Chest X-Ray, Electrocardiac (EKG/ECG), Magnetic Resonance Imaging (MRI), or other diagnostic testing. [Source]


Symptoms in infants and children may include abnormal heart sounds or a heart murmur, cyanosis (bluish skin color), fast breathing, poor feeding, poor weight gain, excessive sweating and an inability to exercise. [Source]


As of 2014, CHD affect 1% (40,000) births per year in the United States. [Source]
TAPVR (Total Anomalous Pulmonary Venous Return)
Author Steph Campbell has
a blog called Dear Britta
that is about her daughter, whom has CHD, and you can
check it out here
.
**The facts from above are taken from the Children's Heart Foundation and CDC, and should be double checked with a doctor for accuracy and updated data/stats**
Meet Steph Campbell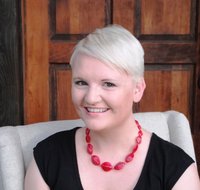 Steph Campbell grew up in Southern California, but now calls Southwest Louisiana home. She has one husband, four children and a serious nail polish obsession. She blogs at stephcampbell.blogspot.com Stop by and say hello! facebook.com/authorstephcampbell Twitter: @stephcampbell_