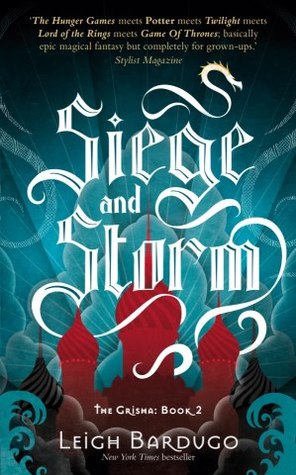 Siege and Storm
by Leigh Bardugo
Young Adult Fantasy
Darkness never dies.




Hunted across the True Sea, haunted by the lives she took on the Fold, Alina must try to make a life with Mal in an unfamiliar land. She finds starting new is not easy while keeping her identity as the Sun Summoner a secret. She can't outrun her past or her destiny for long.




The Darkling has emerged from the Shadow Fold with a terrifying new power and a dangerous plan that will test the very boundaries of the natural world. With the help of a notorious privateer, Alina returns to the country she abandoned, determined to fight the forces gathering against Ravka. But as her power grows, Alina slips deeper into the Darkling's game of forbidden magic, and farther away from Mal. Somehow, she will have to choose between her country, her power, and the love she always thought would guide her--or risk losing everything to the oncoming storm.
Places
Novyi Zem
Top left corner



"There were sleek sloops and little junks from the rocky coasts of the Shu Han, armed warships and pleasure schooners, fat merchantmen and fjerdan whalers. A bloated prison galley bound for the southern colonies flew the red-tipped banner that warned there were murderers aboard."

--Leigh Bardugo, Siege and Storm (pg. 4)



Novyi Zem was was loosely inspired by American and Australia colonies, among other influences as well.
The True Sea
The Bone Road




"We had entered the Bone Road, the long stretch of black water where countless ships had wrecked on the nameless islands that appeared and disappeared in its mists."

--Leigh Bardugo, Siege and Storm (pg. 45)



Books + Music
The Istorii Sankt'ya (The Lives of Saints)
The Istorii Sankt'ya
(The Lives of Saints) is a book of collective of religious drawings and mythical animals.
Balalaika
"The Inferni lit bonfires along the lakeshore, and somewhere in the dusk, someone tuned a balalaika."

--Leigh Bardugo, Siege and Storm (pg. 350)



Favorite Quotes
"Anything worth doing always starts out as a bad idea."

--Leigh Bardugo, Siege and Storm
"The less you say, the more weight your words will carry."

--Leigh Bardugo, Siege and Storm
"Have you looked in a mirror lately?"
"I think you do that enough for the both of us."

--Leigh Bardugo, Siege and Storm
"You just punched a prince, Alina. I guess we can add one more act of treason to our list."
"First of all, are we so sure he really is a prince? And second, you're just jealous."
"Of course I'm jealous. I thought I was going to get to punch him."

--Leigh Bardugo, Siege and Storm
"Keep your elbows in!" Sturmhond berated Mal. "Stop flapping them like some kind of chicken."
Mal let out a disturbingly convincing cluck.

--Leigh Bardugo, Siege and Storm
Book Trailer
[youtube https://www.youtube.com/watch?v=8FRJYF1bmbI]
About Leigh Bardugo
Leigh Bardugo was born in Jerusalem, grew up in Los Angeles, and graduated from Yale University. These days, she lives in Hollywood, where she indulges her fondness for glamour, ghouls, and costuming in her other life as makeup artist L.B. Benson. Occasionally, she can be heard singing with her band, Captain Automatic.
Her debut novel, Shadow & Bone (Holt Children's/ Macmillan), is a New York Times Best Seller and the first book in the Grisha Trilogy. Book 2, Siege and Storm, will be published in 2013. She is represented by Joanna Stampfel-Volpe of New Leaf.